Video Scene Analyser
de Capvidia

El sistema Video Scene Analyser (VSAS) es una aplicación software para el análisis de imágenes de vídeo en tiempo real. Permite detectar y seguir el movimiento de objetos, analizar escenas y detectar eventos. VSAS se basa en una tecnología exclusiva que analiza la actividad, el movimiento, la interacción y el comportamiento humano.



VSAS analyse in the real time a video streaming directly from a camera or media storage (analogue or digital). The VSAS supports the common media format (avi) and video stream from camera or VCR (VideoForWindows). The VSAS player controls the analysed video sequence. The basic VSAS function is detection of human presents.

The video frame is grabbed and saved with a time stamp in a database "Event window". The "Event window" graphically describes the detected activity. It can be used for search and automatic data retrieval of similar events from a large database.

Basic functions
The video control window includes a toolbar emulating the front VCR panel with function buttons controlling play, stop, and pause, operated with a simple mouse click. When using media files, the video control window has a position slider allowing quick access.

The VSAS detects and tracks moving objects, motion directions and motion speed. The natural noise is automatically filtered out, which makes the VSAS system not sensitive to the lighting changes.

Basic functions are:
movement detection
objects tracking (determination of coordinates)
motion path detection
object motion characteristics (calculation of the velocity vector)
left/taken item detection
face (head) detection (by skin colour)
noise filtering.
Events
The following events are detected and registered:
Person (human) has entered / left the control area
Person is moving
Person has stopped
Object (thing) has left in the scene
Object has been removed from the scene
Camera malfunction
Direction of movement (toward or against reference direction)
Counting of entering/outgoing persons
The moving object is indicated with a green contour and blue rectangle. A red vector shows the motion direction and velocity, a green vector – the reference direction. Yellow contours indicate human face region. The events history is stored in "Event windows" with time stamp and event type. It is possible to trace object behaviour inside the visible zone frame by frame. A human model is visualized in a separate window ("Model Window"). The model reflects the motion direction and the relative object position inside the scene.

Monitoring area
The user can manually define a specific area as a ROI (Region Of Interest). In the shown example the analysis area is restricted by a user and defined as a free form polygon. The shaded part indicates the area not being analysed.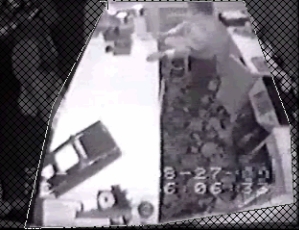 The user may additionally select special areas (control zones) for events detection (red zone). They are marked with red colour. Any motion inside such control zone will be recognised and registered.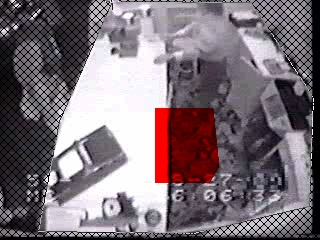 Database
VSAS includes a module storing all registered events in a database. All events are stored in records annotated with: date, time, event type (name) and corresponding image. It can be used for easy retrieving and reviewing of detected object behaviour. The video stream can be analysed on-line or off-line. The predefined events will be automatically extracted.

VSAS in Action
The VSAS application can be used for various automatic recognition and detection systems. The modular architecture and unique recognition/detection approach allows to build complex applications in a very short time.

Application areas: Video surveillance, control and security systems.
Determination of movement direction


Counting of entering/outgoing persons


Potential terrorist act detection (leaving object behind in a scene)



Camera malfunction detection


Shoplifting (guarding of valuable objects)

Other potential application areas:
Tracing animal in scientific experiments
Tracing sportsman movements
Tracing buyer behaviour in a shop (motion paths and behaviour recognition)
Video editing and intelligent video content retrieval (indexing) systems
Video analysis (automatic search and scene retrieval)
Engine
The Video Scene Analyser System is based on Capvidia's propriety CVision Library containing over 500 specialised recognition functions. The VSAS uses the following functions:
Processing functions supporting various data formats and image types
Real time algorithms for generation of vector models (binarization, colour segmentation etc.)
Processing adaptation to external scene condition
Unique and classic algorithms for object shape and object feature recognition
Time dependent scene changes analysis considering large set of parameters
Basic functions:
background adaptation
detection moving object area
creation of object contours
shadow cutting off
noise reduction
object shape analysis and correction
tracking of moving objects
calculation of object motion features
prediction of object states
analysis of object states
special areas detection
calculation of object similarity to background and last frame