FlowVision
de Capvidia

FlowVision es una nueva generación de sistemas de simulación para la resolución práctica de problemas CFD. Su exclusiva aproximación a la resolución de grids proporciona un enlace natural entre la geometría CAD y el mallado propio de aplicaciones de elementos finitos.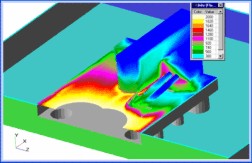 FlowVision is a new generation simulation system for solving practical CFD problems. The modern C++ implementation offers modularity and flexibility allowing addressing the most complex CFD areas. Unique approach to grid generation (geometry fitted sub-grid-resolution) provides natural link with CAD geometry and FE mesh. The ABAQUS integration through Multi-Physics-Manager supports the most complex fluid-structure-interaction (e.g. hydroplaning simulation of automotive tire).
The hybrid modeling concept provides possibility to use multiple solvers (in different parts of the simulation domain) to fast obtain the most reliable simulation results.
Application Areas
Automotive manufacturing
car aerodynamics
heating, ventilation & air conditioning
engine cooling
design of combustion chamber (mixing fuel and air)
gas flow in cylinders and collectors
Aviation
airplane, wing, engine air inlet aerodynamics
jet propulsion modeling
airplane take-off/ landing
Compressor design
calculating gas flow rates, temperature distribution and gas leakage
Heating, Ventilation & Conditioning (HVAC)
modeling temperature distribution
modeling air speed in rooms and houses
Hydro aviation
modeling air and water flow around fuselage
modeling take-off/ landing on water
Metal casting
mould filling with liquid metal
metal consolidation
Microelectronics
modeling wafer sinking on the chuck
modeling clean-rooms ventilation
Nuclear power generation
heat and mass transfer in reactor block
circulation of heat-conducting medium
Power generation
modeling fuel combustion in boilers
modeling fuel and air mixing
calculating pressure drops in manifolds
Supersonic applications
modeling air flow around cruise missile
Space applications
supersonic air flow around rockets
gas flow in rocket engine
simulating jet propulsion influence on start platform
Ship building
modeling ship resistance in water
modeling ship gliding
modeling characteristics of propellers
Turbo-machinery
modeling operating characteristics of compressors, pumps, turbines
acoustic pressure oscillations inside turbo-machinery
Technology
Automatic grid generation with dynamic adaptation (geometry, solution)
CAD repair / native format support
Drop & Simulate function
Modular object-oriented architecture (C++)
Finite Volume (implicit /explicit) high accuracy numerical scheme
Fluid-Structure-Interaction (link with Abaqus)
Free surface
Hybrid modelling (different models in sub-domains)
Moving and rotating bodies
Multiprocessor (cluster) solver
Multi-physics
Multi-phase and chemical reaction
Sub-grid geometry resolution (natural link with CAD and FEM)