3D Data Display
GINOSURF is a multi-dimensional graphical display library providing a variety of surface representations. Contour plots, perspective surfaces and cross-sectional diagrams can all be generated to perform accurate visual appraisal of your multi-dimensional data. This impressive and high performance surface mapping can all be created with a minimum of programming effort.

The multi-dimensional data can be supplied in gridded, random or functional form with interpolation control available onto a gridded or triangulated network suitable for accurate visualization. Control routines provide full colour control, scaling, direction of viewing, character and annotation control, projection of contour slices, area fill of specified data regions, axis control and full hidden surface facilities.

GINOSURF uses the low-level routines of the GINO package, providing complete device and system independence and also enabling the use of its OpenGL drivers enabling surfaces to be drawn, shaded and manipulated at high speed in the graphics hardware. Metafile support includes JPEG, PNG, CGM, Postscript and WMF.
Highlights:
Available for Fortran, C/C++, Delphi, VB and .NET
Create complete plots with very few calls
Complete control over contour annotation
Solid fill/hatch in between contours
Overlay polylines on top of surfaces
Surfaces can be viewed from any angle
Any number of plots per page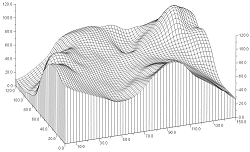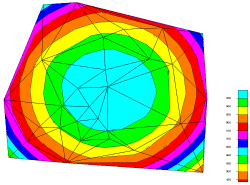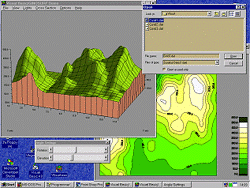 GINOSURF is available as part of the GINO bundle or as an add-on to GINO
Win 9x/NT/2000/XP
Absoft Pro
Lahey LF90/95
Compaq Visual Fortran
Intel Visual Fortran
Salford FTN95

---

---

---

Visual C/C++
Borland C
Absoft C

---

---

---

Delphi
Visual Basic

---

---

---

VB.NET
C#.NET
C++.NET
J#.NET
Salford FTN95 .NET
Lahey LF.NET
Linux
Absoft Pro
GNU g77
GNU cc
Intel
Lahey LF95
PGI
| | |
| --- | --- |
| X-Workstations | |
| Compaq Alpha | (OpenVMS) |
| HP | (HP-UX) |
| Digital VAX | (OpenVMS) |
| IBM RS/6000 | (AIX) |
| Silicon Graphics | (IRIX) |
| Sun Sparc | (Solaris) |