RFE3
by Field Precision, Inc.

Three-dimensional RF electric fields in biological media and resistive materials.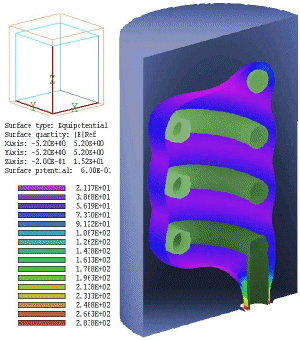 RFE3 calculates RF electric fields in resistive media. The program employs finite-element methods for high-accuracy. The package includes RFE3View, an interactive analysis program to find spatial variations of the amplitude and phase of electric fields and current. In additional to standard 2D/3D plots, RFE3View generates 3D surfaces of constant potential, field amplitude or resistive power density. RFE3 has application to areas such as industrial RF treatments, geological measurements and biomedical procedures. (The mathematical methods of RFE3 apply at frequencies where the RF wavelength is larger than the simulated structure. Available for Windows or Linux. Requires MetaMesh)

Features
Easy-to-understand instruction manual with walkthrough examples.
Extensive array of 2D and 3D plotting options.
Publication-quality hardcopy with support for all Windows print devices.
Interactive point-and- click analysis of solutions.
New solution techniques resolve microscopic details in large structures.
Automatic surface integrals to calculate mutual capacitance, resistance and net current.
Interactive line scans and plots with digital oscilloscope features.
Define up to 127 material regions with specified conductivity and relative dielectric constant.
Batch-mode operation for automated analyses.
The voltage amplitude and phase of electrodes can be set individually.
Advanced interpolation techniques with intelligent-point-selection for high-accuracy field calculations.