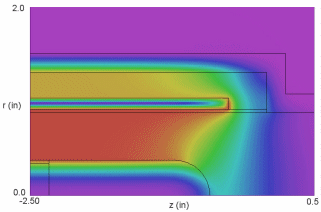 Pulse (Version 5.0) determines time-dependent magnetic fields, including the effects of self-consistent eddy currents, non-linear materials, and programmed coils with arbitrary current waveforms. The code handles saturation waves in ferromagnetic materials. It produces direct output of magnetic field histories at given positions and spatial distributions of magnetic field, permeability and electric field at given times. The package include the utility Probe to analyze and to view histories. The VPulse postprocessor performs automatic analyses of magnetic forces on structures as well as currents and power dissipation. Pulse uses a unique combination of finite-element techniques and the time-centered Dufort- Frankiel method for accuracy and stability. The program can represent up to 127 regions of magnetic materials, conductors and coils. (Available for Windows and Linux. Mesh 5.0 required.)

Features
Easy-to-understand instruction manual with ready-to-run examples.
Standard PCs handle large meshes (several million elements).
Extensive plots include equipotential contours, three-dimensional potential plots, and color-coded element plots of field magnitude.
Publication-quality hardcopy with support for all installed Windows print devices (including color printers).
Interactive point-and- click analysis of solutions.
Formatted text output files make it easy to transfer information to user applications or to mathematical analysis programs.